TWO workspaces for rent in DIY semi-professional Workshop Collective in Nørrebro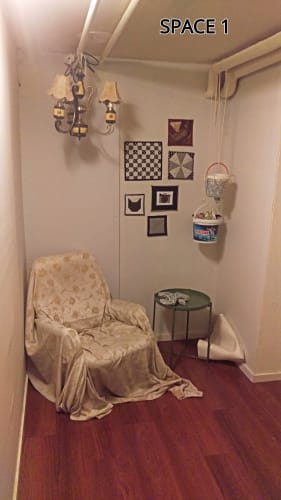 Beskrivelse
We are a group of artists, DIY-enthusiasts, semi-professionals and activists running a basement workshop collective on Thorsgade. We value building communities on radical values both within our group and with our direct surroundings and are currently looking for two more members renting working space.
There are two spaces available:
Space 1: semi-separate space in between kitchen and toilet facilities, cozy corner with own power plug and lighting, (downside: not much natural light), recently used for embroidery/fabric work. (available from 1. July)
Space 2: desk space in bigger, shared main workshop room (shared with 5 other friendly people, who use the space now and then), approx. 2 sqm space along the wall plus access to bigger space in the middle of the room. Other work spaces include: drawing, graphics design, wood work, creative work, laser-engraving. (available from now)

Each space costs approx. 600 - 800 dkk/month (no deposit). Unfortunately, we have to deal with money, so we hope to create an honest dialogue about finances and trust each member to contribute financially with what they can afford within those limits.

All this comes with access to fully-equipped kitchen and hang-out space and access to the greater collective's skills and tools, e.g. wood working, sewing machines, metal working and welding supplies, bike repair tools, painting and graphics design, laser engraving machine, recycled materials.
Hope to hear from you soon!